Four Effective Packaging Solutions For Chocolate
Chocolate is a delicious popular food, there are many different kinds shape chocolates in market,  do you know how to pack them? there are 4 effective foil wrapping solutions , which are automatic packing machine, fully automated packing system, chocolate coin foil wrapping machine, semi-automatic sealing machine, to use which kind of solution, depend on customer manufacturing capacity, budget and packaging styles.
1. Solution 1: Use horizontal flow wrapper for small and medium quantity wrapping request.
Recently, we have a customer who was asked for the automated solutions for wrapping chocolate bars, but the manufacture capacity is only 4000+ per month, is it worth to invest a wrapping machine or system?
For this case, we suggest customer having one set horizontal packaging machine
 first, price is around USD5500.00/SET only, not high cost compare to Fuji or some European machines.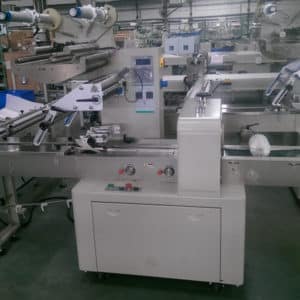 About chocolate horizontal packaging machine 
Double frequency driven with touch screen operation, easy for use.
Lower cost, extremely stable performance.
Memory set for production parameters.
High precision sealing parts, fast packing speed.
Film roller automatic centering function is available for choice.
Double film carriers, film automatic splicing are available for choice.
Anti-cutting, Air inflation, Liquid spraying are available for choice.
Date printer, Labeling device are available for choice.
Expand with automatic feeding conveyor for fully automation.
2. Solution 2: Use automatic packing system for mass quantity wrapping request.
In future, if customer expand manufacture capacity, we will give fully automated packing system
, which the old horizontal packaging machine can still be used for connection, to save cost for machinery.
To have a full automated packing system, do need to consider the manufacturing capacity, so to calculate how many employees can be saved with the packing system, also consider with the cost of electrical, training, machinery set up and maintenance.
Chocolate coin automatic packing machine is for wrapping chocolate with golden coin shape by aluminum foil material, with different customized mould, can also wrap rectangular shape, heart shape, fish shape chocolate.
4. Solution 4: Use semi-automatic sealing machine for small quantity wrapping request.
If you are not ready for chocolate big quantity manufacturing, may check this sealing machine, semi-automatic, cost saving, The operator should take a pre-made pouch, place chocolate into bag, then seal with machine, Price is around USD300.00/SET.
Notice: this device need customer to have pre-made pouch separately.