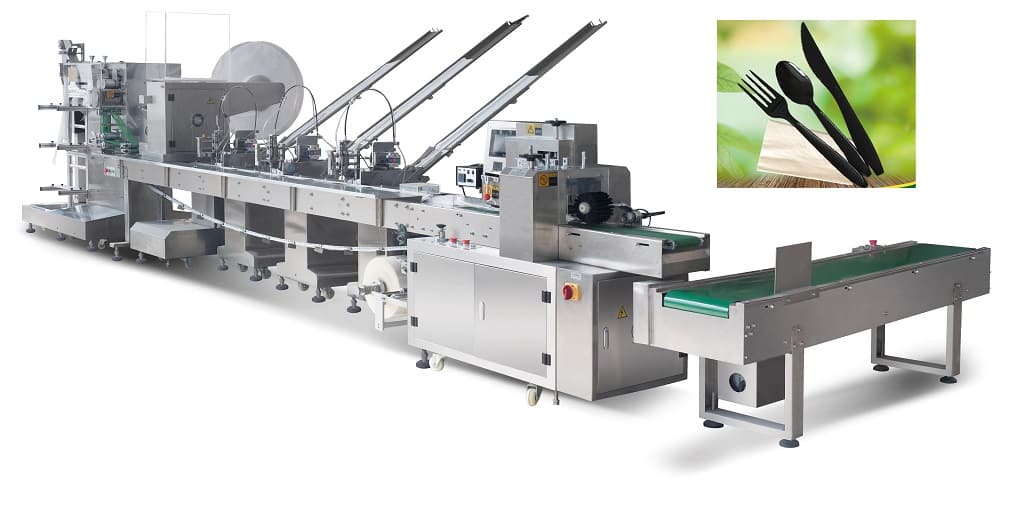 Tissue Fork Knife Spoon Packaging Machine
This packaging machine is suitable for packing disposable plastic cutlery set, such as napkin, fork, knife, spoon, toothpick in a bag.
It is widely used for Hotel, Airline and Fast food industry.
---

Maximum Speed:             Bag Size:
100 bags/min           Length: 90-300mm
                                    Width: 30-100mm
                                    Height: 5-40mm
---
Tissue fork knife spoon packing machine introduction and price
This cutlery set packaging machine is film bottom fed type, touch screen panel integrated all the other accessory machines functions,  can configure with tissue/napkin machine, tooth pick feeder, fork/knife/spoon feeders, one step to wrap cutlery set into bags automatically, no need manual loading.
The whole packaging system price is around USD29000.00-40000.00/SET based on different configurations.
Cutlery set packaging machine's list:
Tissue/Paper/Napkin folder- to fold napkin and deliver it out, Pattern embossing on tissue is available for choice.
Tooth pick feeder-to wrap tooth pick and deliver it out.
Fork/Knife/Spoon feeder- to pick up and place down fork, knife, spoon to request place.
Packaging machine- to wrap all cutlery units into bags.
Output counter conveyor- to output request quantity bags as one group, easy for carton loading purpose.
Date coder- to print manufacturing and expiration information on bag.
Remarks: machine's configuration is based on customer project request.
Question 1: I want to pack tissue, fork, knife manually, do you have a cheaper machine?
Answer: Yes, you can buy film inverted packaging machine only, manual load cutlery products on machine's infeed conveyor.
Question 2: What is cutlery packaging film paper, where to buy this film?
Answer: Cutlery packaging film is requested for food grade, hot sealing airtightness type, we suggest double laminated film, OPP with CPP material, thickness 30-40 micrometers, because the consumbale material, it is better for you to find a film supplier locally,  if you do need such service, can contact us for help.
Question 3: Do you have machine for carton packaging for cutlery?
Answer: Yes, we have relevant machines, please list your packaging requests and check carton packaging machines 
here.
Email us: [email protected], if you have any further questions about cutlery packaging.
Cutlery Packaging Machine Video