Toast Bread Slicing and Packaging Machine
This machine is designed for toast bread slicing and packaging purpose. Machine includes a bread slicer,to cut bread bricks into slices; and a premade pouches bagger, to fill and seal sliced bread with bags. High efficiency, No need manual loading.
---

Maximum Speed:             Bag Size:
40 packs/min              Length: 300mm Max.
                                    Width: 80-150mm
                                    Height: 50-120mm
---
About Toast bread
Toast bread is a classic popular foods, can have different flavors with butter, egg, cream, condensed milk, vegetables or other recipes on bread sliced layers, most bakery stores has this food for the delicious and convenience reasons. Do you know how to sclice and pack toast bread? check machines details below.
Toast bread slicing and packaging machine introduction
Machine includes a bread slicer, to cut toast bread blocks into slices; a multifunction filling and sealing unit to push products into premade bag and sealing it. Super efficient, No manual loading, Better hygienic condition.
Full servo driven, touch screen operation panel, easy for operation, speed is up to 40 packs per minute.
The filling and wrapping unit are also suitable for packaging white bread, mixed bread, rye bread, long loaf, etc.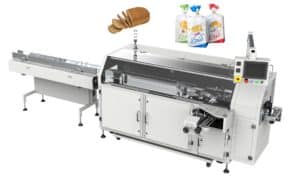 Question 1: I want to pack sliced bread with cream,  do you have machine for sandwiching and packaging?
Answer: Yes, you can check bread sandwiching machine
here.
Question 2: I want to pack toast bread in pillow bag, which type horizontal flow wrapper should I have?
Answer: Please check bread packaging machine
here.
Question 3: What is sliced bread packaging film material, where to buy this film?
Answer: This packaging request premade bag with hanger holes type, materail is normally PE, or other hotsealable material, thickness 30-40 micrometers;  Because the consumbale material, it is better for you to find a film supplier locally,  if you do need such service, can contact us for help.
Question 4: Do you have machine for carton packaging?
Answer: Yes, we have relevant machines, please list your packaging requests and check carton packaging machines 
here.
Email us: [email protected], if you have any further questions about toast bread packaging.
Toast bread slicing and packaging machine video