Food Automated Packaging systems manufacturer
For food packaging, there are great auto bag requests for automated packaging systems, because a good system can shorten packaging process and increase producing efficiency. However, there are no standard solutions, need to make customized design according products features, manufacturing capacity and factory layout drawings.
Soonpack Inc offer a variety innovative automated packaging systems which covers biscuits packaging line, swiss rolls packaging line, chocolates packing system, cakes packaging line and other solid shape products packaging systems. To save customer labor cost and increase producing efficiency are our end target.
How to get the suitable automatic packaging solution?
Before give solution, we request the following information for the packaging system.
Products size and picture, to identify which type packaging machine is suitable.
Manufacturing capacity, to clear how many sets packaging machines to meet.
Packaging styles for finished products, to make sure our machines can meet customer packaging styles.
Factory layout drawings, to insure machinery installment successfully and avoid any cement pillars.
The end part size information of producing line, so our packing line can be connected with former line.
6 types food automated packing systems
System 1: Simple packing line.
Simple packing line is an economical solution, mainly configure with 1 set flow wrapper, used for small quantity food packing request, such as biscuit, bread, cereal bars etc., Customer can dump products upon feeding conveyor directly or to connect with former food producing line to have fully automatic packing effect.
System 2: Direct sort packaging system
Direct sort packing system, normally configured with 2 sets or 3 sets flow packaging machines, used for medium quantity food packing request, Customer can put products upon feeding conveyor or to make connection with former producing line.
System 3: Side sort packaging system
Side sort packaging system is mainly used for biscuits, bred buns ,cookies packing, products are guided in ordered lines by conveyor, each line is configured with 1 set flow wrapper to pack.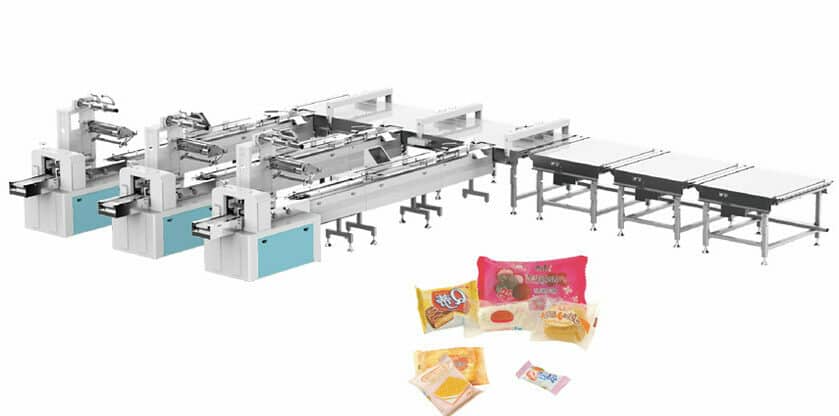 System 4: Wafer biscuit packaging system
Wafer biscuit packaging system is designed for packing wafer products specially, Servo driven pusher to handle feeding, customer can make single pack and family pack with one system.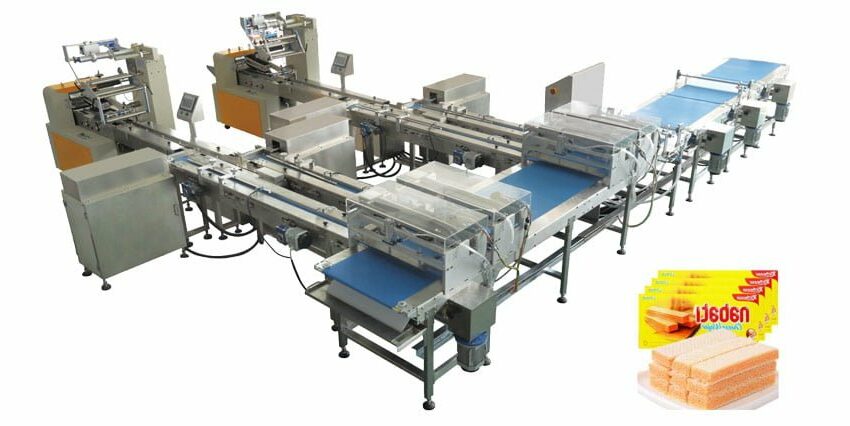 System 5: Up&Down packing line
Up&Down Packing line is designed for swiss rolls, Layer cakes, caramel treats, chocolates packing, which products are fed in rows. Servo driven food grade PU belt, high efficiency, complied with hygiene requirements.
System 6: Biscuit cartridge feed packaging system
Biscuit cartridge feed packaging system use vibrate cartridge feeders for wrapping, The biscuit can be packed for one piece in one bag, two pieces in one bag, or with set quantities. With a high speed horizontal flow wrapper, the packing speed could reach to 500bags/min/machine, Economical and high efficiency solution.
Different kinds of automated packing systems are available, depending on actual projects.
Low cost, high effiency, your smart choice!
For machines installment and trainning, we have engineers avaiable for abroad service.
Just list your packaging request, we will design optimized solutions accordingly.      Check Now